Travel Tips
This site has been developed as a result of a somewhat limited number of travel experiences. Sentences in red font have recently been added on 02/05/15). On 2/19/18, several more recent itineraries have been added at the bottom. Please recognize that except for one of these, the itineraries include events that occur on certain dates each year and need to be adjusted if the events are to be included. We do our best to make choices that maximize enjoyment and learning while minimizing cost. None of the information has been suggested or endorsed by any of the companies mentioned. The tips are provided solely to make it easier for readers to make informed choices and decrease the time used planning trips and decrease the cost of taking quality trips. Most of our travel has been within the last 15 years and has included ocean cruises, river cruises and land tours. Almost all of the trips have exceeded our expectations and it is my hope that this site will help you plan great trips for yourself, family and friends. Incidentally, we have not traveled around the world nor have we traveled in a balloon. All trips including tours, flights and cruises are usually cheaper in the Spring and Fall than in the summer and usually do not encounter as many people both in the groups and at points of interest. While weather might be a concern, except for docking on one of the cruises, weather has not interfered in any way with our trips. For hotlinks to many travel web sites (and other useful hotlinks), please visit: http://murov.info/handy.htm
Escorted Land tours (All of these tours included a guide and sometimes an additional local guide, comfortable touring bus, most if not all meals, hotels, baggage handling and most excursions.) The advantages of using a company rather than doing it on your own include: safety, language issues, the company knows the area and you don't have to do any of the planning and while you might think you could save money on your own, add up all the items and you might be surprised. In addition to the tour price, tourists are expected to tip the guide and driver but not the people involved in the rest of the tour (the guide tips waiters, bellhops, etc.)
Caravan tours ( http://www.caravan.com/ ) to Copper Canyon, Costa Rica, Guatemala, Panama and New England. Caravan is a high quality company that offers many escorted tours in North and Central America for prices substantially lower than their competitors (in the range $995 to $1295 for 7 to 11 days depending on the tour). Tours are in groups of about 40 people. The Central America tours include three meals per day but those in the U.S. and Canada provide all breakfasts and a few additional meals. Caravan does not arrange flights but does provide airport transfer if you arrive on the first tour day and leave on the last tour day. We have toured Copper Canyon (this tour is currently not operating), Costa Rica, Guatemala, Panama and New England with Caravan. All tours except the Panama tour scored in the 4.5 to 5 star range out of 5. I would only recommend the Panama tour if your primary purpose is to explore the canal. We had previously gone through the canal on a cruise ship and found much of this tour a repeat of our earlier experience. We were disappointed by the lack of wildlife and other points of interest in Panama. Guatemala was excellent both for scenery and the Mayan ruins but there are a couple of days with rather extensive bus time. Costa Rica was also excellent for scenery and the wildlife was amazing. The Fall Colors on the New England trip were a little disappointing but the points of interest made the trip well worth the time. All motels and hotels were clean, roomy, charming and well above the quality we would have chosen had we been on our own. It is difficult to figure out how Caravan makes any money on these trips.
Andiamo Travel ( http://www.andiamo-travel.com/2010/index.html ) to Baja, CA. Andiamo is a small tour company that offers a few different escorted tours in Mexico. We were surprised to find that their 3.5 day whale tour was at least equal in quality to the other land tours we have taken. The motels although simple were probably the best available lodging in the areas we stayed. The rooms were clean and comfortable. We had been looking for an inexpensive tour to visit the the breeding sites of the gray whales. There are three locations on the West Coast of Baja California where the whales can be viewed. The closest one to the U.S. is near Guerrero Negro and is a full day's drive from San Diego. Andiamo has several tours of different lengths in January through March when the whales are breeding and giving birth. Some of the tours not only visit Guerrero Negro but also another site a few hours further to the South. We chose the 3.5 day round trip tour from San Diego which only went to Guerrero Negro to decrease bus time and because it is easiest site for tourists to get out to the whales. We could not have been happier with the tour. We had the wonderful experience of having a baby whale come along side our 12 person boat and allowing us to pet it. The whale stayed by our boat for about 20 minutes. A mother whale also later flirted with our boat although it did not let us touch her. This was an experience of a lifetime and Andiamo provides the tour with most meals (interesting and excellent), a great guide and a consultant from the Birch Aquarium for a very reasonable price. Other companies do visit the whale sites but most either use an airplane or ship and the cost is considerably higher than Andiamo's.
OAT Overseas Adventure Travel ( http://www.oattravel.com/ ) to Peru. OAT has escorted tours all over the world. It is a branch of the Grand Circle tour company which specializes in tours for retired Americans. One big advantage of OAT is that the tour group size is about 18 people. Our OAT tour started in Lima, Peru, included round trip flights to Cusco and about 1.5 days in Machu Picchu. Our travel group rated this tour a 5+. Everyday was filled with fascinating experiences visiting Incan ruins and with the native people. In fact, on three occasions, we spent several hours talking to the people and sharing information about our cultures. All lodging was interesting and excellent and almost all meals were provided. OAT also offers pre and post trip extensions and we opted for the post trip extension to Lake Titicaca. This extension included a boat trip to the floating reed island habitats of the Uros tribe. Two of our cultural exchanges occurred during the extension. OAT and Grand Circle include flights if desired and we found that the flight prices are usually equal to or lower than the prices we could find elsewhere. The only problem with having them book the flights is there might be a charge to add flexibility to your flight itinerary. Be aware that much of the tour takes place at high altitude (>8000 feet) and some people suffer from altitude sickness on this tour. However, it is a tour that should not be missed if the opportunity to take it ever arises.
Gate 1 ( http://www.gate1travel.com/ ) to Italy. We have had two tours provided by Gate 1 and both were excellent. The land tour was a 9 day bus excursion of Italy from Venice to Rome (our other tour was a river cruise that is discussed later). Gate 1 provides inexpensive, quality tours all over the world. All lodging was excellent and many but not all meals were provided. Although groups are usually about 40 in size, we were fortunate to have only about 18 in our group (probably because we traveled off season). Gate 1 arranged the flights at lower prices than we could have found. Gate 1 also is very flexible about scheduling flights and arranging pre and post trip stays. As an illustration of their flexibility, we did a Gate 1 Danube river cruise (see below) and then took a train to Venice for the Italy tour and Gate 1 arranged the flight to Budapest and return from Rome. Be aware, however, that some Gate 1 excursions are optional and can increase the cost. Most of the excursions on our Italy trip were included in the basic price but we did opt for a couple of the optional excursions.
Homeric Tours ( http://www.homerictours.com/ ) to Greece. Homeric tours provides the largest variety of tours through Greece at low cost and considerable flexibility. Our tour was similar to their Classic B and included nights in Athens, a bus tour, an island cruise and air fare. While there is a tour director, the director is present only at the beginning and a few other occasions. The bus tour portion included a very knowledgeable guide. Unfortunately, like most bus tours through Greece with any company, the motels seemed to have been built solely for tour groups with large and crowded buffet meals. We were off season so it is probably packed in the summer. The motels were nice but did not have the quaintness we had become accustomed to on Caravan and OAT tours. Still, we enjoyed the tour and especially the visit to Meteora. Many tours do not go as far North as Meteora but try to include it on your itinerary. The cruise portion is discussed here rather than under cruises as the ship did not compare to most cruise ships and some people might have found it lacking in amenities. However, we enjoyed its small size and good meals although the rooms were rather tight. The island visits were excellent although sometimes rushed as we docked everyday and twice on a couple of days. At the time we booked this, we were not familiar with Gate 1 but would consider Gate 1 as a good alternative as both companies provide substantial flexibility with itineraries and flights.
China Travel Service, 1860 El Camino Real, Ste 207, Burlingame, CA 94010 850 652-6578 Our transpacific cruise on Princess (see below) concluded in Beijing. We had arranged a 3.5 day land tour with this company that included most meals, a 5 star hotel, transfer from the ship and to the airport, a guide and a driver (4 people) and admission to the points of interest. Princess offered a similar excursion for about 4 times the cost per person. The only problem we encountered was that we were there during the first week of October when China celebrates their independence week and all points of interest were packed with people. We still thought that the visit and tour were fantastic. We even enjoyed our free foot massage but could have done without the analysis by a "doctor" and the attempt to sell us health food products.
Smart Tours http://www.smartours.com/ We have never traveled with this company but other travelers have told us that their tours are excellent and very competitively priced.

River cruises. We have taken three river cruises and this is our favorite method of travel. Like ocean cruises, packing and unpacking is only required once and all meals are provided. Unlike 2000 passenger ocean cruises, the ships we have been on hold only about 150 passengers but still have many of the amenities of the large ocean cruise ships. In addition, the ships dock everyday and most excursions are included as contrasted with ocean cruises; excursions are not included and can cost between $50 and $200 per excursion per person. Also, since the cruises are on rivers, there is almost always scenic viewing available whereas there is often only ocean to see on some days of ocean cruising. On our trips, there has been about one guide for every 40 passengers and they have enhanced every trip.
Grand Circle ( http://www.gct.com/ ) from Amsterdam to Antwerp and Brussels. This river cruise was followed by a bus ride and a couple of days in Brussels. The best time to go is in the Spring when the tulips are in bloom. Grand Circle includes the flights and for $50 extra delayed our return flight by five days so we could independently take a round trip bullet train to Paris. The ship, guides, meals, daily excursions and hotel in Brussels were all excellent. A couple of the excursions were optional at a cost. Be careful as some of these are worth the cost and others are not. There were also pre and post trips which we did not take as we went to Paris on our own but we understand the trip to Bruges is well worth the time and cost.
Gate 1 ( http://www.gate1travel.com/ ) from Budapest to Nuremberg. This is a beautiful cruise with excellent excursions in Budapest, Bratslavia, Austria and Germany. We were very fortunate to have three Hungarian guides of different ages who led a discussion of life in Hungary before and after Communist occupation. In addition to the great scenery, we went through many interesting locks and visited churches of many styles. We took an unnecessary optional night tour of Vienna but a great day long optional bus tour to Salzburg. We were in Budapest for about 2 days and would have liked more time there as it is a great city to visit. We would probably rate this tour at 5+ stars. Flights were included but see Italy tour above. When we fly that far, we like to stay for at least 16 days so we combined this with an Italy land tour as the timing came out just right.
American West Steamboat Company round trip from Portland up the Columbia River. This was an excellent tour on a real paddlewheel ship with great meals and daily excursions. There was also entertainment on the ship nightly and frequent free champagne toasts. We went on the lowest price cruise of the season (departed New Year's Eve) and were in the least expensive but very acceptable cabin. Unfortunately, it appears that the company has been sold and the cruises are now one way and about four times the amount we paid. Still, it is a great cruise with much lower flight costs especially if you live on the West Coast.
Viking (sailed from Basel to Amsterdam) - In the Fall of 2013, we flew to Zurich and toured Switzerland using a Swiss train pass for about 8 days. Cities included in the visit were Lucerne, Intelaken, Bern and Basil. The train pass also provides free admission to many museums. This was a wonderful experience highlighted by a train ride from Interlaken up to Jungfrau. The views from the top were marvelous and the ice caves fantastic. To get to Bern, we took the train on the Golden Pass scenic railway to Montreux and transferred to Berne. While the ride was scenic, it was not worth the extra time and we should have gone directly from Interlaken to Bern. At Basel, the problems began when we called Viking to find out how to get to the boarding location. We were told that the boat could not get to the usual location and that we should take a bus to the airport and we would be transported by bus to the next port and the boat. This involved dragging luggage on a bus and a long wait in the airport (strike 1). About half way thru the cruise, we woke up around 4:30 am in the morning to a very loud continuous noise that went on for 3 hours (strike 2). The boat had gone on to a sand bar and got stuck but the captain kept the propeller going hoping that we would break lose. When I asked at the desk what was going on, I was given little info and the explanation for the noise was not given. In fact, we were never told how such a mistake could have been made and there was no transparency regarding the accident (strike 3). We eventually were transferred to another boat, taken to shore and taken on our shore exursions while the boat was freed from the sandbar. The itinerary was changed several times and we made it to most destintions but not without losing several hours of sleep and experiencing many inconveniences. Compared to the three river cruises mentioned above, Viking finished a distant 4th for more reasons than those already discussed. The other cruises broke the approximately 150 passengers into 3 groups, each with their own guide. Viking really only provided one guide (strike 4). After the cruise, I asked for a partial refund and everyone onboard was offerred a discount on a future cruise. When I complained that I did not plan on cruising on Viking again and that Viking had not delivered on its promises of a carefree cruise, I was told that there would be no monetary refunds (strike 5). Finally, Viking uses deceptive advertising by posting prices as two for one but over several year period, I have noticed that their fares have always been 2 for 1 (strike 6). In addition, they claim they offer low cost air fares but I found I could match their rates on many air line sites. In conclusion, I recommend you choose another river cruise company unless you get a real bargain or there are no other options.
Ocean Cruises Not counting the Greek Island cruise, we have taken 12 cruises on Costa, Celebrity, Holland America, Norwegian, Princess, Premier (now defunct), Royal Caribbean and Voyages of Discovery. These cruise lines are much more alike than different but each has some qualities that are better and some below their competitors. For example, the food on the one Celebrity cruise we were on was the best of all the cruises but the entertainment was not as good as some of the other cruises. These variations can even be from one ship to another and even one sailing to the next. We base our cruise selections first on itinerary and second on price. Unless there are going to be many sea days, we have found little reason to pay substantially extra for a balcony or even an ocean view as we use the room only for sleeping. The windows and balconies are nice but for us not worth the money. Occasionally, the ocean view and balcony rooms are not much more than the inside rooms and then it is certainly a good option. Only five (including 2 transoceanic) of our cruises are specifically discussed below. We chose transoceanic cruises not only because of itineraries but also to cut down on long flights. Unfortunately, international one way flights often cost much more than half of a round trip fare (on domestic flights, one way flights are usually half the round trip fare). However, it is common for the transoceanic cruises to be discounted more partly making up for the extra flight cost. Cruise companies will include flight costs but our experience is that unlike with the tour companies above, we can usually beat their prices significantly booking on our own and with it get much more scheduling flexibility. Flight suggestions are below. For booking cruises, there are many online travel companies such as Expedia and Orbitz as well as the individual cruise line sites. For a search of almost all available cruises, the site: http://www.vacationstogo.com/ is one of the best. For the most part, cruise lines have standardized their prices, however, we do find we can save some money by booking through Costo http://www.costcotravel.com/#0 or for a limited number of cruise lines AWCV, http://www.awcv.com/ We have also noticed that some cruise lines such as Princess have 2 for 1 sales that only seem to be available on the web site of the cruise line and usually only within a few months of the departure date. We seldom pay much more than $100/day per person for our cruises. Considering that this includes all meals, room and entertainment, the price is low until excursions are considered. If you book early, periodically check the prices online up to the date you pay in full. If the price drops, contact your travel service and they should give you the lower rate (Costco and AWCV were very good about this). Tips of about $12/day/person are also commonly charged to your credit card. Ships have several excursions available at each port that can substantially raise the price of the trip. Our experience has been that we can almost always find similar excursions at about half the price by googling the port name followed by "tour" or "excursion." The downside of this is that finding private excursions can be very time consuming and you have to be a little concerned about returning to the ship before the departure time. On the other hand the private excursions are usually for much smaller size groups as the ship excursions are usually for bus loads of people. It is often possible to connect with other people searching for private excursions by going to: http://www.cruisecritic.com/ . The price for the private excursions usually drops as the group size is increased.
Alaska Cruises depart for Alaska from Vancouver, Seattle and San Francisco. There are round trip inside passage cruises and one way cruises to Seward or Whittier. we highly recommend Alaska for first time cruisers as the ports are interesting and the scenery fantastic. One problem with Alaska like the Caribbean is that ports are often crowded with many cruise ships. We still found the advantages of an Alaskan cruise far outweigh the disadvantages. We cannot say the same for Caribbean cruises. We have sailed from Vancouver and San Francisco. For people who live in the Bay Area, the S.F. cruise while about 3 days longer is the way to go to avoid flights. Flights to Seattle are usually less expensive than flights to Vancouver so Seattle is probably the best departure port if you have to fly in. All cruises schedule a cruise day near the North end of the inside passage in a glacier area. If you can find a cruise that goes to Glacier Bay, it is probably your best bet. On a recent one way cruise from Vancouver to Whittier, we rented a car in Anchorage and drove round trip to Homer. This is a beautiful drive and affords the opportunity to take a sea plane flight in Soldotna to see Bears or fish. We flew on Talon (http://www.talonair.com/ ) and really liked it. In addition to seeing bears from a boat, the plane flew up a glacier.
Transpacific Princess cruise Sailing from Whittier, Alaska to Beijing in late September, China took 16 days and ranks as our most rewarding cruise. Although there were 6 sea days, we relaxed and enjoyed the facilities and good entertainment on the ship. Then we were very pleasantly surprised by the ports in Japan, Russia, South Korea and China. Each was fascinating and provided a glimpse of the culture of the country. Our first stop in Muroran, Japan has an optional excursion to Sapporo but the tour takes over one third of the port time so we opted to tour Muroran instead. Muroran is visited infrequently by cruise ships but rolls out the red carpet whenever a ship comes into town. A free loop shuttle was provided that stopped at six different sites. At each site, several activities were set up for ship passengers. At the other ports we chose tours that included lunch with people that lived in the cities. This was a great experience. Upon disembarking in Beijing, we were met by a tour company for a 3.5 day tour of Beijing (see above). Dates are very limited for this cruise as it sails West only in early Fall and East in early May. As mentioned above, avoid Beijing in early October if possible.
North Transatlantic Princess cruise Sailing from Southhampton, England to New York in early Fall took about 15 days and has the potential because of great and unusual ports of being a wonderful cruise. Because the ship sails in September, weather is a factor and can make docking in northern ports difficult or even too hazardous to attempt. Our cruise had to skip the Shetland Islands, one of the two Iceland ports and one of the two Greenland ports. In addition, we had to substitute Halifax for the scheduled St. Johns, New Foundland. The ports we visited in Norway, Faroe Islands, Iceland and Greenland made the trip worthwhile but we were very disappointed that we missed the other ports. This is apparently not uncommon for this cruise. We were on a huge cruise ship (>3000 passengers) and this probably made docking more difficult. Smaller cruise ships also have this itinerary but cost about double the amount that we paid.
Hawaii on Norwegian Pride of America There is some kind of U.S. law that requires foreign based ships to dock at least once in a foreign country even though the cruise is intended to be a U.S. cruise. Because the Pride of America is the only major cruise ship based in the U.S., it is the only ship that can visit the Hawaiian Islands without also stopping at a foreign port. This means that most Hawaiian cruises start on the West Coast and stop at either Ensenada or Vancouver to fulfill the foreign port requirement. This also means that at least half of the voyage will be at sea. If you are looking for a two week cruise that is very reasonably priced, there are several that fit this description. However, if your intent is to visit the islands and you are not interested in sea days, then the Pride of America is your only option. Fortunately, it is a good option but does require flights which can be very expensive at some times of the year. Book the flights early as prices tend to go up as the trip date nears. The cruise was great. In addition to visiting all the major islands and staying in two ports overnight, it cruises by the cliffs along the Napali Coast in Kauai and the volcano on Hawaii. Rather than taking excursions, we rented cars in every port and saved a considerable amount while enabling us to visit most tourist attractions.
Black Sea on Voyages of Discovery's MV Discovery http://us.voyagesofdiscovery.com/ Our goal was to somehow incorporate a few days in Istanbul with a cruise. Princess and Royal Caribbean have cruises that include a few stops in the Black Sea originating in Athens or Rome but an insufficient amount of time in Istanbul. There are river cruises that start in Kiev and terminate in Istanbul but we found them either expensive (Viking) or reportedly low quality. When we noticed that the MV Discovery makes approximately two round trip cruises annually in the Black Sea from Istanbul at a reasonable price, we decided to try this small ship cruise (about 700 passengers). The ship was formerly the Island Princess and is the twin of the Pacific Princess which was the Loveboat. The ship had most of the features of the larger ships but did lack many of the activities available on larger ships. The entertainment was also much more limited with most shows presented by the ship's production company. However, these productions while much simpler than those of the production companies on larger ships, were higher quality than the productions on the larger ships. The food while not outstanding was interesting and better than adequate. Most importantly, we never had to stand in a line getting on or off the ship or for a dining experience. The crew members were all very friendly and we would not hesitate to cruise on the Discovery again. One of the special features of VOD is that they have two lecturers on board. Unfortunately for our particular cruise, both lecturers were military and not of much interest to my group. The ports were all interesting and included 2 additional ports in Turkey, one in Russian and three in the Ukraine. The ship docks overnight in Istanbul giving passengers one day in Istanbul. We flew in one day early and stayed two extra nights and stayed in the Basileus Hotel. At least 3 days are needed to be able to tour the mosques and bazaars at a reasonable pace. Our flight was booked through CheapoAir and included a United flight from S.F. to Chicago and nonstop service on Turkish Airlines to Istanbul. The quality of Turkish Airlines was certainly as good if not better than any other airlines we have flown on.
Flights Most travel sites give very similar fares that can change frequently but unlike the cruises, the airlines generally will not lower your rate if the ticket prices drop (Jet Blue did give us a credit when they dropped their rates but we had to request it). If a site requires a fee for seat selection, use the confirmation number provided for the airlines selected to select seats on the site of the airlines. This should avoid the fee. As mentioned above, one way flights can be considerably more than half of the round trip fare on international flights.
For domestic flights, the different sites including the airline sites should be searched to find the best flights and times. Remember that Southwest is not included on travel sites and must be visited independently. Other inexpensive airlines to consider are Air Tran and Jet Blue.

Hotels The two sites trip advisor ( http://www.tripadvisor.com/ ) and booking.com ( http://www.booking.com/ ) are good starting points as both sites have reliable ratings of motels and hotels. The goal should be to balance the rating with the price according to your needs and pocketbook. Occasionally, it is possible to find a lower price by searching many sites but most sites have similar prices. It is always worthwhile to check the site of the hotel for multiple day stay discounts and because cancellations are easier. Just to mention a couple of good, clean hotels we have stayed in: try the Anchorage Grand Hotel ( http://www.anchoragegrand.com/ ) in Anchorage and the Americana ( http://www.americanahotel.com/ ) in Arlington, Virginia. Both are much less expensive than nearby motels but are clean with nice rooms. The Anchorage has huge rooms and delivers a big continental breakfast to your room. The Americana is located near the subway to Washington, D.C., has a great shuttle to Regan Airport and local shopping, an adequate continental breakfast and a significant discount for staying more than 3 nights.

Miscellaneous A very recent cruise on the Celebrity Infinity from Santiago, Chile to Buenos Aires was a good cruise but the ship was not outstanding. Other lines including Prin
cess and Holland America also have similar itineraries. These comments only deal with two aspects of the trip; penguins and Iguazu Falls. Penguin excursions can be taken in three ports including Punta Arena in Chile, Ushuaia in Argentina and Puerto Madryn in Argentina. The choice between the penguin tours to some extent depends on which direction your cruise ship is going. We were going East from Chile so the first penguin tour was in Punta Arena (there are actually 2 options there, one place has about 4000 penguins and the other, Magdalena Island about 100,000). We opted to reserve the latter on a private tour as the ship tour there costs close to 3 times as much. One problem is that it is possible the ship due to weather would not be able to dock at Punta Arena so by booking the penguins at the first opportunity, we had the next two ports as backup. We did dock and the tour for $78 was excellent. The largest penguin sites are out of Puerto Madryn but the two tours require about a 2 hour drive each way so we were pleased that the much less expensive and shorter travel time tour was able to occur.
http://www.aonikenk.com/individual-travel/punta-arenas-day-trips/reservations
As long as you are traveling as far South as Buenos Aires, the opportunity to visit Iguazu Falls should not be passed up. The flight from B.A. takes about 1.5 hours and lands on the Argentina side of the Falls. To avoid backtracking, we then flew out of the Brazil side to Lima. This cut flight costs and time. We booked LAN from S.F. to S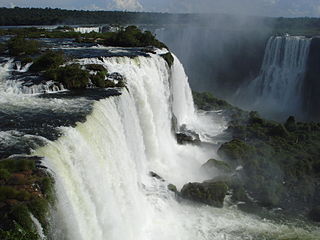 antiago with a change of plane in Lima (there is a non-stop flight from L.A. to Santiago), B.A. to Iguazu, Iguazu Falls to S.F. with a change of planes in Lima. There are many tour guides and companies available in area but we were quite pleased with a company called Iguassu falls tour http://www.iguassufallstour.com/ . It is very much worth the time to see the magnificent falls from both sides of the river but going into Brazil does require a $140 Visa (10 years) that should be purchased a couple of months before the tour. It is possible to purchase a short term Visa for much less money if you go to the entry station a day before you intend to enter Brazil but this Visa is only valid for a short time. Leaving out the Brazil side means saving money on a Visa but requires a flight back to B.A. making the flight home even longer and you will miss some spectacular views. The only problem with this visit is that it will make almost all other falls seem insignificant. Do not pass up the opportunity.
California game preserve - On 12/28 -12/31/13, we spent 3 great days at the B. Bryan Preserve in Point Arena, CA (about 3 hours drive north of S.F. on coastal Highway 1). Up close and personal 1.5 hour tours are available daily of the preserve which houses over 80 antelopes, zebras and giraffes for $30. Even better, stay in one of their fully equipped cabins that comfortably hole 4 people for about $200/night and walk near the animals at your leisure. Close by is a casino that offers good food at reasonable prices and ocean views including the Point Arena wharf are also within a few miles. http://www.bbryanpreserve.com/
Rapid City and Mt. Rushmore to Yellowstone. We did this excellent road trip by flying to Rapid City, renting a one-way car and returning it to Billings.
Switzerland + Viking River Cruise from Basel to Amsterdam. Online, we purchased an 8 day rail pass for Switzerland. We flew to Zurich and immediately took a train to Lucerne. The Switzerland portion of the trip was done independently as we booked hotels in Lucerne (3 nts), Interlaken (3 nts), Berne (2 nts) and Basel (1 night). The museum pass provides admission to most museums and discounts on cog wheel railways. The highlight was a day trip up to Jungfrau from Interlaken and this should not be missed. From Interlaken, we took the Golden Pass to Montreux and then continued on in the same day to Berne. While scenic, in hindsight, we would have skipped the Golden Pass and gone straight from Interlaken to Berne. In Basel, we were supposed to board the Viking but due to high water and low bridges, we were bussed to the next port. Because it was November, we got a real bargain (under $1200/person) for the Viking cruise but we were disappointed by way it was run and it did not help that the boat went aground on about the 3rd day which caused changes in the itinerary. This was our fourth river cruise and we rated it last far below Gate 1 and Grand Circle in quality. Be sure to add a couple of days post cruise to explore Amsterdam.
Galapagos Island. We found a flight from S.F. to Guayaquil to the Galapagos on American Air that basically did not charge for the flight from Guayaquil to the Galapagos (under $1000 round trip for S.F. to Galapagos). Recent checks have not found this type of fare. There are several ways to tour the Galapagos. Probably most common is a small ship cruise but we chose to island hop using hotels on San Cristobel, Santa Cruz and Isabella. This requires 2.5 hour boat trips from one island to the next and these trips can be very bumpy and cause sea sickness in some people but we did not get sick although the boat trips got rather tedious. You could probably arrange this on your own but we chose to buy an island hopping package from Nomadtrek, http://www.nomadtrek.com/travel-to-galapagos/ . The itinerary provided essentially everything from airport transfers to food, hotels, tours and guides. We were extremely happy with the package. Be sure to book your flight from Ecuador to the San Cristobal airport and the return from Galapagos (Baltras airport) or you will have to pay for and take an extra 2.5 hour boat ride. The guides on San Cristobal and Isabella spoke excellent English and were excellent naturalists. The guides on Santa Cruz were good naturalists but their English was weak. Food in the hotels on Isabella (La Laguna Hotel) and Santa Cruz (Fernandina Hotel) was great. The San Cristobal hotel (Blue Marlin) was excellent but only served breakfast and lunch and diner were in an nearby restaurant and were ok but repetitive. We added 4 nights thru Nomadtrek on our own in Santa Cruz and found this to be worthwhile. During the 4 days, we also booked a tour to North Seymour. This is a tour that should not be missed and in hindsight, if allowed, we strongly recommend that the day trip from Santa Cruz to Floreana be replaced with the North Seymour tour. Also one of the excursions on Santa Cruz involved a very long walk in 85 degrees and high humidity to a "turtle" beach. While the beach was pretty, we did not see turtles and on one of our free days, we took a water taxi to the Punta Estrada Beach which we found to be a much better beach for swimming and snorkeling. On San Cristobal, there is a day excursion to Kicker Rock. This is certainly worth it if you are snorkelers. However, if you do not snorkel, try to find an alternative excursion. The most amazing observation about the Galapagos is that the animals (sea lions, iguanas, turtles, tortoises, penguins (on Isabella), pelicans, flamingos (on Isabella), frigate birds, blue footed boobies and other birds all live in relative harmony with people. It is possible to get very close to all animals as they are not intimidated by humans. We found the whole experience to be fabulous and North Seymour to be the highlight.
Partial tour of the South: In late January of 2015, we flew to Atlanta, rented a car and drove to Charleston, Savannah, Jekyll Island, Albany, Pine Mountain, Anniston, Gadsden, Huntsville, Scottsboro, Rome and back to Atlanta. This was a wonderful trip as we were greeted everywhere by fantastic southern hospitality. The weather was a bit of a risk but 14 of the 17 days the weather was good and tourists were few and far between. There were many great attractions including ocean views, beautiful cities, gardens, the space center, caves, museums, Jimmy Carter's home town, FDR's vacation home and a great bonus visit at Pasaquan http://pasaquan.blogspot.com/ (Pasaquan is in the process of being restored so it might or might not be accessible).
It is hoped that the above information will make your searches easier, your costs lower and your trips more enjoyable. If you would like to make some suggestions, please e-mail Steve at murovs@mjc.edu . For hotlinks to many travel and other useful sites, please visit: http://murov.info/handy.htm . The images in the order they were included from top to bottom came from the following sites:
http://commons.wikimedia.org/wiki/File:World-map-2004-cia-factbook-large-1.7m-whitespace-removed.jpg
http://commons.wikimedia.org/wiki/File:Burbank_80_Days.JPG
http://commons.wikimedia.org/wiki/File:Neoplan-N316-2-Hinomaru-Sightseeing-Bus.jpg
http://commons.wikimedia.org/wiki/File:Heubach_guenon_and_howler_monkey.jpg
http://commons.wikimedia.org/wiki/File:Gray_whale.jpg
http://commons.wikimedia.org/wiki/File:Peru_Machu_Picchu_Sunrise_2.jpg
http://commons.wikimedia.org/wiki/File:Colosseum-Rom.jpg
http://commons.wikimedia.org/wiki/File:Parthenon_Athens.jpg
http://commons.wikimedia.org/wiki/File:Greatwall_large.jpg
http://commons.wikimedia.org/wiki/File:Zaanse_Schans_-_Windmills_3.jpg
http://commons.wikimedia.org/wiki/File:AuSableRiverQueen_Michigan.jpg
http://commons.wikimedia.org/wiki/File:US_Navy_101109-N-5684M-067_The_Carnival_cruise_ship_C-V_Splendor_sits_adrift_approximately_150_nautical_miles_southwest_of_San_Diego.jpg
http://commons.wikimedia.org/wiki/File:Muir_Glacier_-_Alaska_Days_with_John_Muir.jpg
http://commons.wikimedia.org/wiki/File:Wegener_Expedition-1930_03.jpg
http://commons.wikimedia.org/wiki/File:Puu_oo.jpg
http://commons.wikimedia.org/wiki/File:P1020390.JPG
http://commons.wikimedia.org/wiki/File:747.JPG
http://commons.wikimedia.org/wiki/File:Barcelo_Varadero.JPG
http://commons.wikimedia.org/wiki/File:508px-African.penguin.bristol.750pix_(Pingstone).jpg
http://commons.wikimedia.org/wiki/File:%D0%98%D0%B3%D1%83%D0%B0%D1%81%D1%831.JPG
Itineraries added on 2/19/18. Please recognize that except for one of these itineraries, events are include that occur on certain dates and itineraries need to be adjusted to include the events. After each itinerary, a few remards are added in hindsight that could improve the trip.
Mexico trip to Todos Santos, San Miguel de Allende and Guanjuato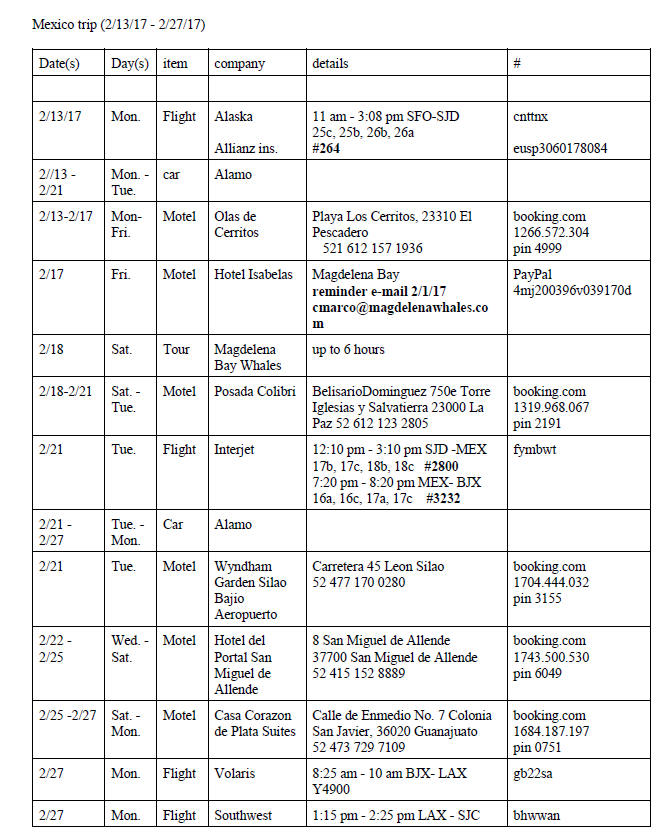 Hindsight: another day in Guanajuato would be useful. The whale trip was ok but much better at Gurerro Negro. At San Jose Cabo airport, noticed a non-stop flight to Leon on Calafia Airlines that would have been much more convenient.
Montana
The parade in Reed point with the running of the sheep is at 4 pm so it is not important to arrive before 3 pm. Tippet Rise is a multi acre sculpture garden that contained a few very large sculptures but we all were very disappointed by the experience and should have skipped it. If you go, take the half tour and not the full tour. During the time we were in Montana, smoke from fires covered the entire state and could often be smelled. This severely limited vision. In addition, fires in Glacier National Park prevented entrance. This was still a good trip but would have been great without the smoke.
New Orleans and the Gulf Coast.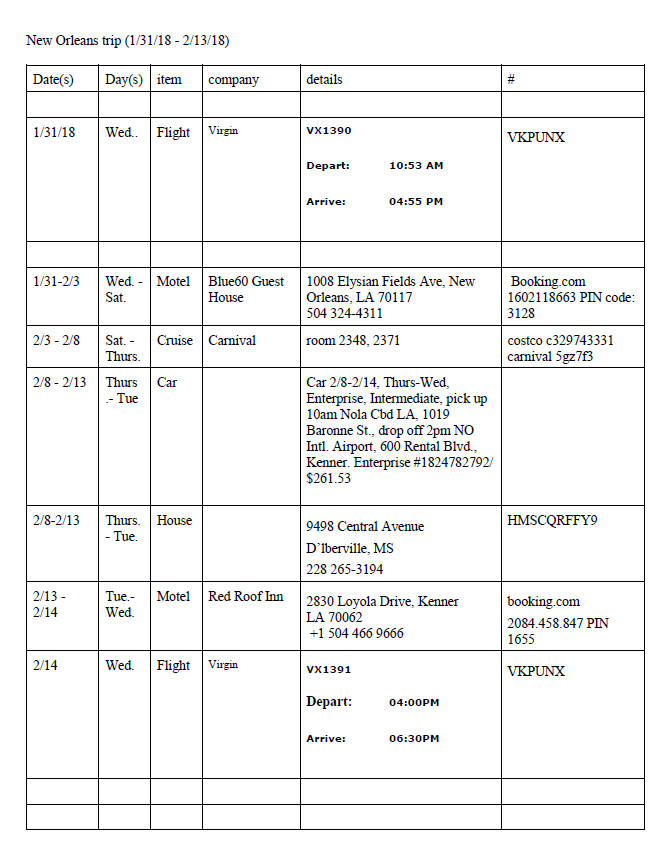 This was a great trip. We purposely stayed in New Orleans several days before Fat Tuesday and went to only 2 Mardi Gras parades in New Orleans. The schedule allowed us to return on Fat Tuesday before returning to the airport but we went to parades in Ocean Springs, Gulfport, Biloxi and Mobile and had our fill of beads by then. The Biloxi and Mobile parades were probably the best. We should have scheduled our return flight on Fat Tuesday instead of staying another night.
Texas (San Antonio, Corpus Christi and Austin)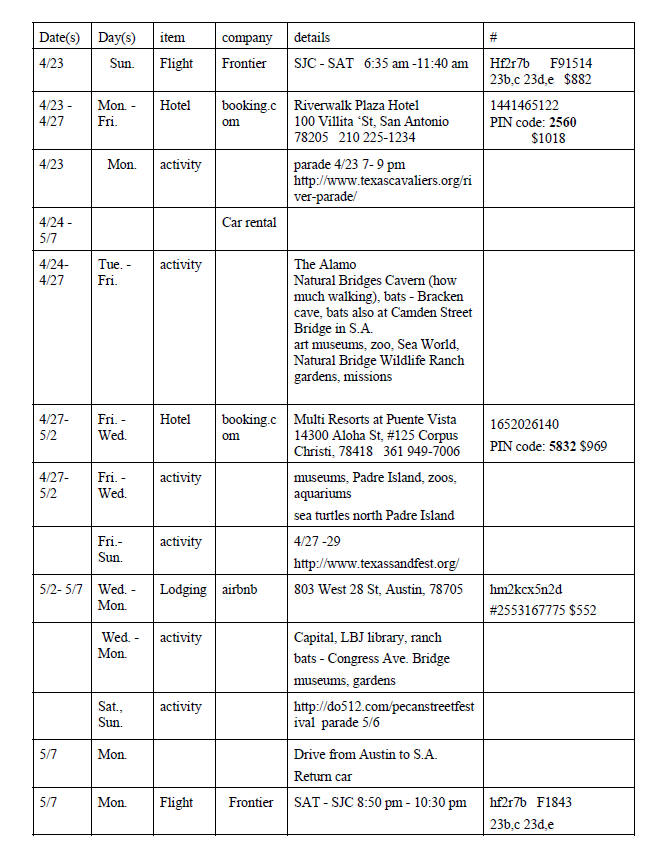 This trip will be taken in April, 2018 so there is no hindsight yet. We have already had to change the itinerary twice as Frontier airlines has changed its flight schedule substantially since the original itinerary was developed.
Utah (southern) This trip has not been taken yet and probably will not as two of us are growing increasingly sensitive to altitude.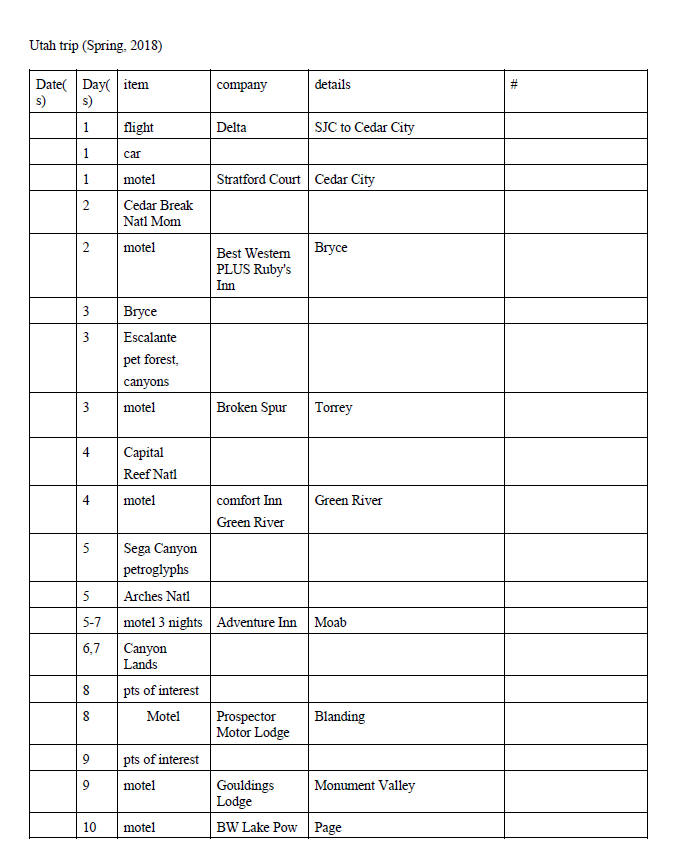 Enjoy, Steve Murov
restarted to zero on 07/27/12


Get Counters Code